—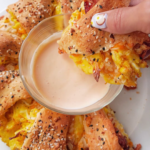 Print
BACON EGG AND CHEESE crescent ring
BEC-ause this BACON EGG AND CHEESE crescent ring is very necessary 🥓🍳🧀
Materials
1

can crescent rolls

1 1/2

c

cheese

I used mozzarella and cheddar

5

slices

of bacon cooked

4

eggs scrambled

Optional

but not really 😉 everything bagel seasoning
Instructions
Preheat oven to 350. Pop open crescent rolls and overlap triangles creating a sun. You can use a bowl in the middle to help (see Buffalo video for this)

Distribute bacon to each triangle, add half the cheese to where the triangles overlap, eggs and then rest of the cheese. Fold the triangle into the middle tucking it in nice so you form a ring. You can brush with a little butter and sprinkle everything

bagel seasoning. Bake for 20-25 min. I served with ranch Sriracha dip 😋

Brian thought it needed more bacon and while it looked pretty having the bacon on the triangle I think chopping it up and adding it on top of egg would give it a better distribution for each bite 😉
Notes
#CheatDayEats
Hi Everyone! — If you are new, my name is Jessica Hirsch AKA Cheat Day Eats on most social media platforms.
Check out my other channels below for more!
https://www.facebook.com/cheatdayeats
https://www.instagram.com/cheatdayeats/
https://twitter.com/cheatdayeats
https://www.tiktok.com/@cheatdayeats
https://www.pinterest.com/CheatDayLife
https://www.CheatDayLife.com
#YTShorts​ #Shorts​ #CheatDayEats
Pin Recipe
This recipe comes together really fast!
Hi Everyone! — If you are new, my name is Jessica Hirsch AKA Cheat Day Eats on most social media platforms. For now, I've created this page to be focused on YT Shorts. #shorts #ytshorts #short which will mostly be short form videos of food and recipe creations I've made myself to share with all of you. Check out my other channels below for more! https://www.facebook.com/cheatdayeats https://www.instagram.com/cheatdayeats https://www.tiktok.com/@cheatdayeats
Click Below to see more
#CheatDayEats #CheatDayEatsRecipe #CheatDayRecipe
Did You Make This?
Snap a pic and hashtag it #cheatdayeats — We love to see your creations on Instagram, Facebook, and Twitter!