Since I'm traveling so often, I have to be strategic about the gear that makes a place in my bag. In order to get the most mouthwatering videos of food to post for @cheatdayeats, this is the gear I use.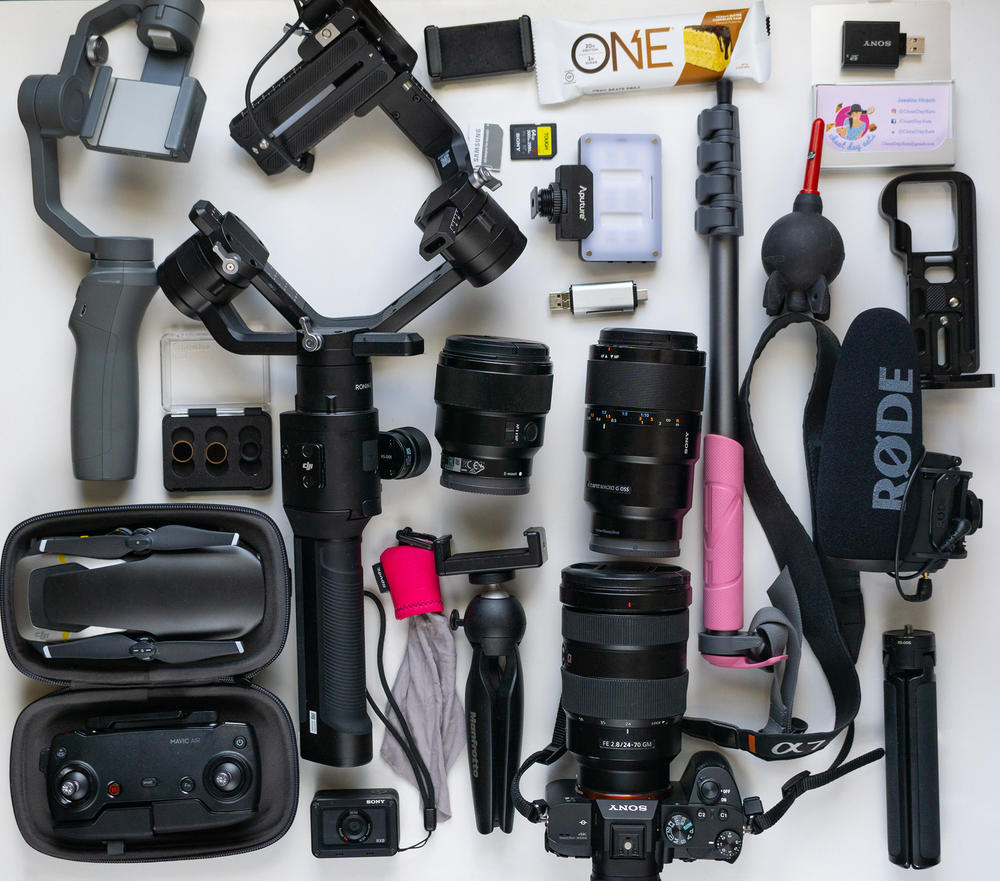 CAMERAS
The α7 III is my main camera. The α7 III's AF performance is great in video which is key when I am capturing the movement of a dish. Its long battery life and the dual SD card slots help ensure I can do my work without worry of running out of space/battery. While the camera has 4K options for video, I mainly use the 1080p 60fps option since I like to slow down my videos.
"The majority of this video was captured in the kitchen of the pizzeria. The lighting wasn't ideal, but luckily the α7 III handles low light well. The chef and I were moving pretty quickly as I changed angles to get different perspectives of the process of the pizza being made. The AF is key here. For the finishing shots I switched to the Sony 90mm f/2.8 Macro G OSS lens which allowed me to get a few close up pans at the end. People really enjoy seeing those details."
I love the Sony RX0 for getting underwater footage and I've used it a lot to create my Instagram stories. It's a great little camera I can wrap around my wrist and bring with me to capture some great content that most cameras can't. It's light and also shock resistant in case it happens to slip off when you get back on the boat or maybe knock it against a rock on your way to a cliff jump! When traveling and posting for @YourRoomService, I never know what I might come across and this camera helps me be prepared for anything.
LENSES
This is my go-to lens because its range is so versatile and it's super sharp at so many different spots. For me it is key when I am filming for many reasons. When I am in the kitchen with chefs there are a lot of variables and some relatively dangerous ones with heat, so I love having the versatility and peace of mind knowing I can be a safe distance away and utilize the zoom and still not have to sacrifice quality. The different focal lengths help me develop a bigger story to my video as well.
I love this somewhat new addition to my collection because of the ability to get closer to my subject (usually food). I will also switch out to this lens for a second shot during a video to get a different perspective. Most people don't realize this but I usually shoot a dish multiple times to capture different angles and looks that I can use to piece together in post processing later. It provides a really unique look to my videos of very close-up shots.
People love #yolkporn so when filming it I know I am looking for close-up shots of the egg popping. I was filming in great light and increased the f-stop to ensure that most of the dish would stay in focus. I shoot almost everything in 60fps because 90% of the time I will slow it down.
Angles, slow-mo, and mac and cheese – what else can you ask for? I want people to feel like they are so close to the dish they can almost taste it.
I usually throw this lens on when I have a nice open space to move around in and want the 1.8 f-stop look to my videos. It's mostly used for portrait shots but in certain cases I will use it for video.
Accessories
I've had several drones over the years, but my current (and favorite) drone is the DJI Mavic 2 Pro. The camera has really improved from the previous version and it still folds up and fits into my camera bag with all my other photography gear. We use this drone for aerial photos and for video. It still blows my mind how incredible this drone is whenever we take it out to get shots.
When taking videos it is extremely important that I don't have any dust on the sensor. While it might be an easy edit with a photo, it can ruin a video. It's small and cheap to get one, so just something that is good to have around if I need it.
When taking videos it is extremely important that I don't have any dust on the sensor. While it might be an easy edit with a photo, it can ruin a video. It's small and cheap to get one, so just something that is good to have around if I need it.
When getting behind the scenes footage of @CheatDayEats, I'll throw my phone on the tripod and have my partner follow me to see some of the crazy things I do to get a photo.
"What was great about this situation is that we were at a Smorgasburg and people kept ordering the cheese steak so I stayed there for a while and filmed different angles – and at 60fps and 120fps to add a little more drama."
This mic mounts to the top shoe on my α7 III to enhance unidirectional audio of a subject in front of the camera. It's not that the audio on the camera is bad, but this relatively portable mic can help with variables in the kitchen like refrigerator noise and other background noises that are annoying to hear and difficult to deal with in post-processing. I need to be able to drown out the noises that take away from the sizzle on the grill or the sounds that I actually want my audience to hear.
The Z batteries in the α7 III are amazing, but I always carry a spare for piece of mind. I like to know I have it, just in case.
While I shoot most of my videos in natural light, if I find a great opportunity to shoot a video in a restaurant at dinner time, this provides a pretty powerful light source in a small factor. You can see it in scale vs. some of the other items and it's no bigger than the palm of your hand.
It might sound silly, but I never show up on an empty stomach to a video shoot. It is my worst nightmare because most of the videos I shoot take at least an hour. Sometimes I shoot a few at each restaurant before I even get a chance to eat any of the items the chef is preparing for me.
This device by far takes up the most space in my bag and is the heaviest item I carry. It doesn't come on every trip with me but it is totally necessary when I'm doing travel videos and the stabilization system on the α7 lll is great compared to other cameras. Even the best Operation game board player in the world won't have the steady hand to be able to match what this piece of equipment provides. It also serves as a tripod when I'm looking for more of a static shot and has a tracking system that can follow me around the room.
Although my base location of NYC does not allow drones similarly to many other big cities, I usually travel with my drone since it can provide such a unique perspective on a video. I've never used it in the kitchen, but it does have a tripod mode which handles pretty well and if the creative calls for it, I'm sure I can figure out a use for it. But it's mostly used when I'm shooting travel videos as opposed to food videos. I do plan on incorporating food into these shots more often so stay tuned and make sure you follow along on my channels to see what I'm talking about.